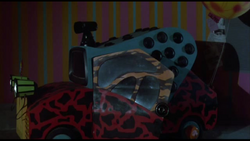 The Klown Kar is the vehicle used by the Klowns for transportation. Despite its small size, it was able to carry five Klowns, including the obese Chubby and the tall Slim. The giant balloon in which Debbie was trapped was tied to the bumper during the car chase scene. It was the only known (non-human) survivor of the Big Top's explosion, shielding Dave and the Terenzi brothers from the destruction and saving their lives.
Community content is available under
CC-BY-SA
unless otherwise noted.