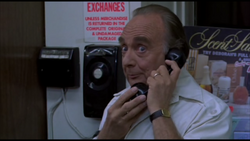 Mr. Myers
was a store clerk who was frightened when
Rudy
entered his store to buy, (steal might be a more appropriate term ), items. The Klown also killed at least two customers, as two cotton candy cocoons, (one with shoes sticking out of it), were seen on the floor.
Rudy
knocked down umbrellas and broke several fragile items, ignoring Mr. Myers's offers for help while he and
Shorty
were looking for what to buy.
Shorty
sprayed a white substance at Rudy which made him collapse before getting up again to look closely into a powder that made
Shorty
sneeze very loudly.
Mr. Myers then called Curtis Mooney, since Rudy was stealing many items from the store, such as orange juice cartons and caps (perhaps other things too). Mooney put Mr. Myers' call on hold while answering to a husband's call that the Klowns kidnapped his wife and took her away in a balloon. Mooney then heard Mr. Myers scream, meaning that either Rudy or Shorty then killed him.
Trivia
Mr. Myers most likely did witness with his own eyes the death of his 2 customers in his store, because the Klowns definitely did kill at least two people inside his store. This may explain why Myers was so shivering in fear, as he was too scared to either kick Rudy and Shorty out or run away from them, knowing they were armed with cotton candy guns.
He was played by Howard Malpas.